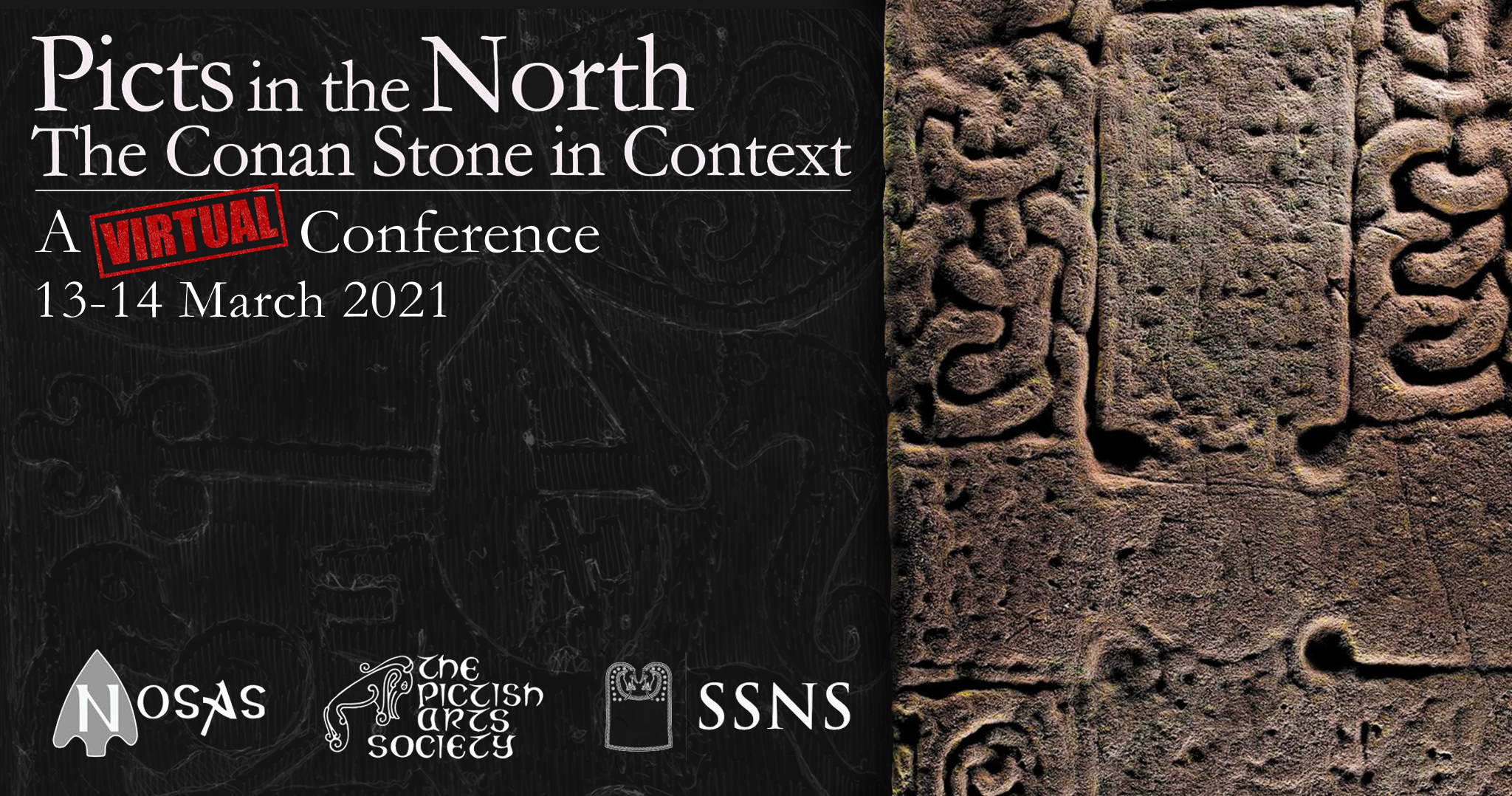 Picts in the North: The Conan Stone in Context
The Scottish Society for Northern Studies, NOSAS, and The Pictish Arts Society are jointly organising a conference on 13-14 March focusing on the recent discovery and conservation of the Conan Stone, a Pictish cross slab that was discovered in Easter Ross, and which is now on display in Dingwall Museum.
This event will take place virtually using Zoom Webinar across the afternoons of Saturday 13th and Sunday 14th March.
The full conference programme is as follows (times in GMT):
Saturday 13 March
12.45-12.50 Log on/arrival
12.50-13.00 Welcome remarks
13.00-13.30 The discovery of the Conan Stone – a NOSAS video presentation by finder Anne MacInnes and film maker James McComas
13.30-14.00 Graciela Ainsworth (Graciela Ainsworth Sculpture Conservation): Conserving the Conan Stone
14.00-14.10 Break
14.10-15.00 John Borland (Pictish Arts Society): Pictish Cross Slabs of Northern Scotland – the Conan Stone in context
15.00-15.10 Break
15.10-16.00 Dr Kelly Kilpatrick (University of Glasgow/University of Oxford): The Pictish Gods
16.00-16.10 Break
16.10-16.50 Discussion: Join Saturday's speakers for a more informal discussion of their papers in a dedicated breakout space.
16.50-17.30 Join us in the Conan Stone Arms for a chat to wrap up the day.
Sunday 14 March 
12.30-12.35 Log on/arrival
12.35-12.45 Welcome remarks
12.45-13.35 Hugh Levey: Towards Establishing the Rule Book of Pictish Symbol Usage
13.35-13.45 Break
13.45-14.35 Dr Sally Foster (University of Stirling): Admitting new voices – letting St John's Cross and its replica speak
14.35-14.55 Break
14.55-15.35 Dr Eric Grant (NOSAS): Barrow loads of barrows: investigating a monumental Pictish cemetery at Tarradale
15.35-16.25 Prof Gordon Noble (University of Aberdeen): Picts in the Highlands
16.25-16.40 Break
16.40-17.20 Discussion: Join Sunday's speakers for a more informal discussion of their papers in a dedicated breakout space.
17.20-18.00 Join us in the Conan Stone Arms as we wrap up the weekend.