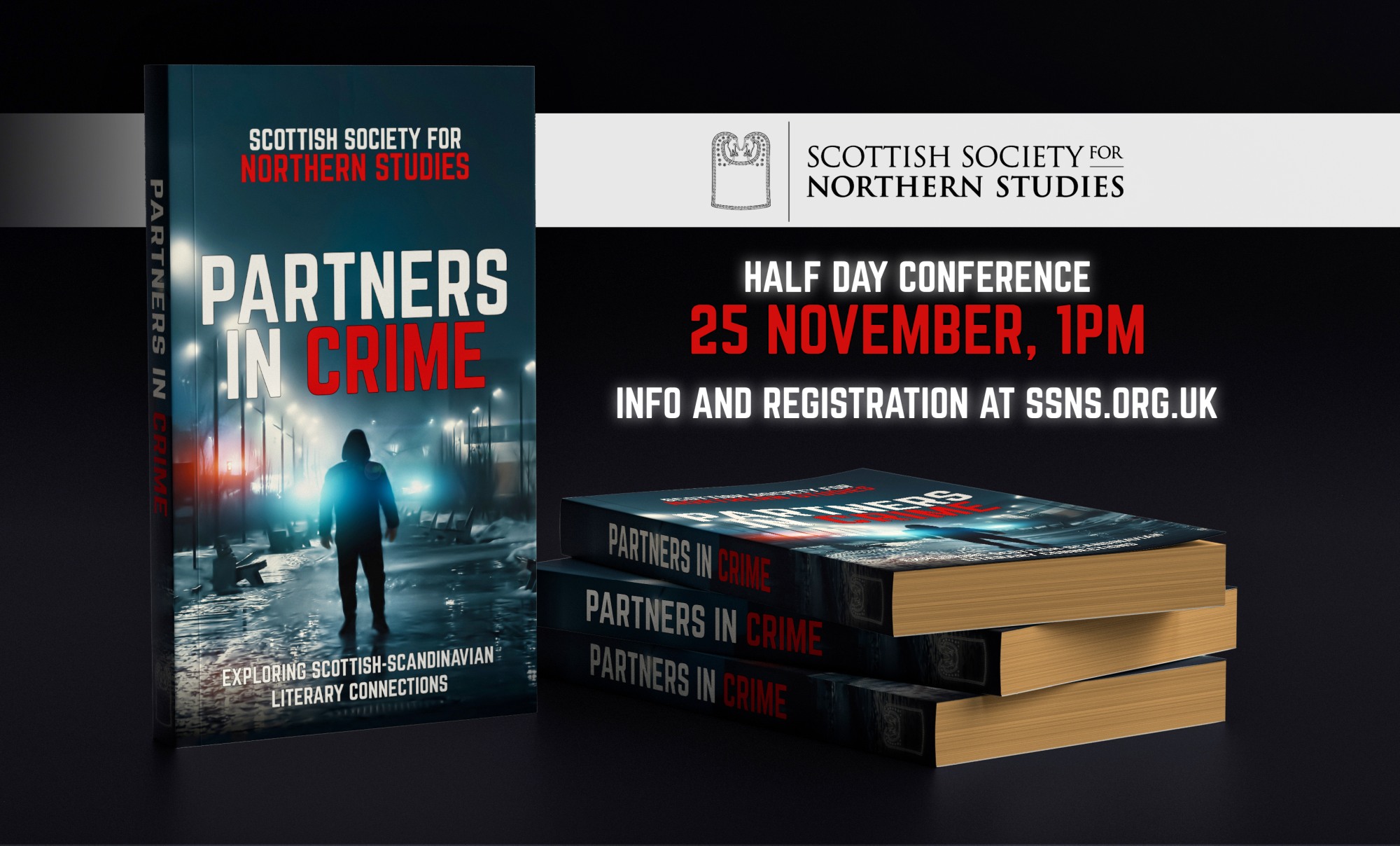 Partners in Crime
Scroll to bottom of page for registration form.
The Society is set to host its annual conference on Saturday 25 November. The event, titled 'Partners in Crime' will take place virtually this year, using Zoom. The conference will explore the literary cross-currents between Scotland and Scandinavia via the prism of the crime fiction genre, drawing on a range of practical and scholarly perspectives.
NB! Sessions will be recorded and available to watch later for registered attendees. If you can't attend live you can catch up later!
The full conference programme is as follows (times in GMT):
12.55 – 13.00  Arrival & Welcome
13.00 – 13.30  Dr Joe Kennedy, (University of Gothenburg (Sussex)),
'Scottishness and the Nordic in the Interwar Thriller'
13.30 – 14.00  Dr Lorna Hill, (Sharing A Story CIC & BOLD Project),
'From Crime to Connection: How researching women in crime fiction started a social enterprise to empower vulnerable people through storytelling'
14.00 – 14.10  Break
14.10 – 15.00  Authors Lin Anderson and Arne Dahl will be in conversation about all matters crime in the Scottish-Scandinavian sphere with Dr Jacky Collins (University of Stirling)
15.00 – 15.10  Break
15.10 – 16.00  Prof. Jakob Stougaard-Nielsen (University College London),
'

The Magnetic North: Locked-rooms and small towns In Nordic and Tartan Noir

'
16.00 – 16.10  Break
16.10 – 17.00  Three Scottish-based translators of Scandinavian crime fiction, Anne Bruce, Kari Dickson and Ian Giles will be discussing their work in conversation with CWA Dagger judge Duncan Beattie
17.00 – 17.30   Closing remarks. Afterwards, join us in the Magnusson Arms for an informal chat with some of the day's speakers and other attendees.
Speaker bios (click on the speaker's name to see their bio)
Lin Anderson

Lin Anderson is a Scottish novelist and screenwriter best known for her bestselling series featuring forensic scientist Dr Rhona MacLeod. Lin is co-founder of the international crime writing festival Bloody Scotland which takes place annually in Stirling, Scotland, mid September.
Duncan Beattie

Duncan Beattie is currently the second longest serving judge on the Crime Writers' Association jury tasked with awarding the Crime Fiction In Translation Dagger. He has hosted panels of authors and translators at events such as Newcastle Noir and Portobello Book Festival. He also reviews crime fiction online as Fiction From Afar and founded the Crime Fiction In Translation Facebook Group.
Anne Bruce

Anne Bruce studied Norwegian and English at the University of Glasgow and formerly worked in education before embarking on life as a literary translator. She lives on the Isle of Arran and is known mainly for translations of crime novels by Anne Holt, Jørn Lier Horst and Heine Bakkeid.
Jacky Collins

Dr Jacky Collins, also known as Dr Noir, was formerly Senior Lecturer at Northumbria University in Literature, Film & TV and Spanish Language & Culture, and is currently based at Stirling University. In 2014, Jacky established the International Crime Fiction Festival Newcastle Noir, supporting arts in the North East whilst connecting readers with hundreds of authors from around the world.
Arne Dahl

Tbc.
Kari Dickson

Kari Dickson is a literary translator from Norwegian. Her work includes crime fiction, literary fiction, children's books, theatre and nonfiction. She is also an occasional tutor in Norwegian language, literature and translation at the University of Edinburgh, and has worked with BCLT and the National Centre for Writing.
Ian Giles

Ian Giles is an Edinburgh-based Scandinavian languages-to-English translator. He currently serves on the committee of the Translators Association and has been Chair of SELTA since 2018. His recent publications include translations of Camilla Läckberg and David Lagercrantz.
Lorna Hill

Dr Lorna Hill founded social enterprise, Sharing A Story CIC, in 2019 as a direct result of her PhD research and work she piloted with survivors of domestic abuse. She is the senior project facilitator on the social leadership programme BOLD (Bringing Out Leaders in Dementia) at Edinburgh and Queen Margaret Universities and a trainer in First Aid for Mental Health. She is the author of five fiction books and her PhD research has been published in journals and books.
Joe Kennedy

Joe Kennedy lectures in English and Cultural Studies for the University of Gothenburg on its programme at the University of Sussex, Brighton. He has written two books (one on football and one on the cultural & political construction of authenticity in contemporary Britain) and is working on a third, about transport and the romance of infrastructure. His academic work covers many aspects of twentieth and twenty-first century British fiction.
Jakob Stougaard-Nielsen

Jakob Stougaard-Nielsen is Professor of Scandinavian and Comparative Literature at University College London. He is the founder of the Nordic Noir Book Club in London and has written several articles and books about Nordic literatures, television series and cultures including Scandinavian Crime Fiction (2017) and Introduction to Nordic Cultures (2020).